Setting the Standard for Landscaping Companies in Bloomington, IL
and all of central Illinois
Grounds Maintenance, Snow Removal, and More With a Commitment to Innovation and Professionalism in Bloomington, Peoria & Champaign, IL
A beautiful, well-kept commercial property contributes to the neighborhood, and it creates a great first impression for anyone who stops by to visit. At Reinhart Landscaping & Snow, we provide high-level landscape design and installation, commercial grounds maintenance, and commercial snow removal to ensure your outdoor space reflects your values and interests. 
We customize your landscaping solutions using innovative green technology and a passion for fine landscaping. Our team prides itself on good stewardship of our community, and we work with a sense of urgency to ensure your project is completed on time and according to your standards. Whether you're looking for seasonal clean-up and autonomous lawn mowing, landscape maintenance, land clearing, tree installation and pruning, erosion control, irrigation maintenance, snow plowing, ice control or a complete design-build, we offer honest pricing, detailed quotes, and professionalism you can rely on.
In Bloomington, Illinois, and throughout the area, we work on select residential properties and a wide range of commercial properties, including warehouses and storage facilities, healthcare and government properties, mixed-use developments, college campuses, religious venues, wind and solar farms, and more. Contact us to learn more about how we've established ourselves as a leader among local landscaping companies and schedule your on-site discovery meeting today.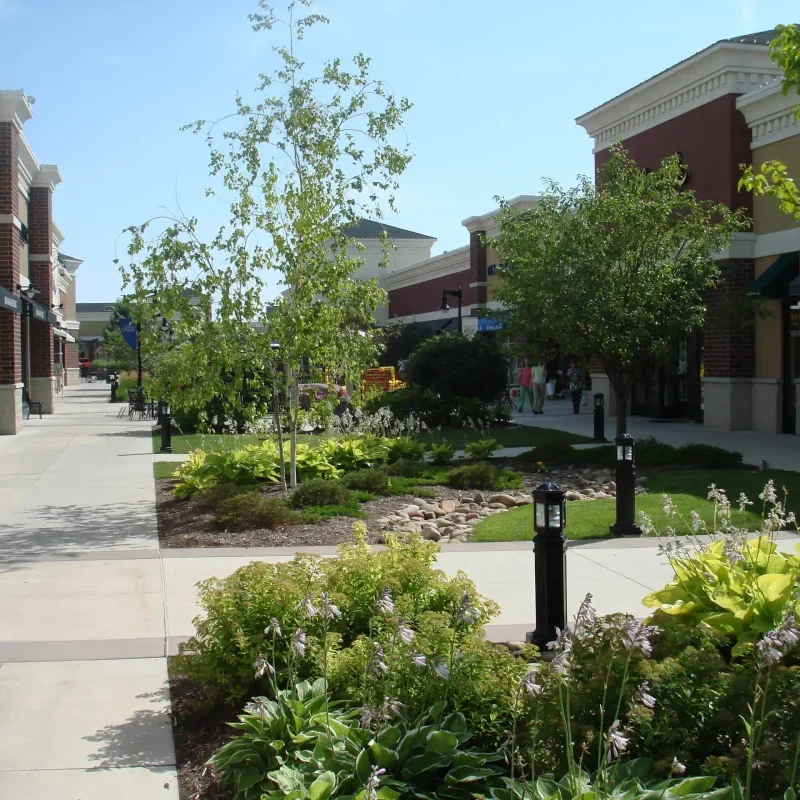 How Reinhart Landscaping & Snow Sets Itself Apart Among Landscaping Companies
We're more than a service provider: we're your partner in landscaping. With a proven process, honest pricing, and a commitment to guiding you toward the solutions that fit your needs and your budget, we deliver exceptional grounds maintenance, snow removal, and design-build services in the Bloomington, Illinois, area. This is how we've grown over the years to become the area's leading landscaping and snow removal company:
Advanced Green Technology
We invest in our clients and ourselves by setting the standard for tech-forward solutions. Our commitment to staying on the cutting edge of technology, robotics, and automation means we can deliver faster, more precise results for you. We use battery-operated string trimmers, battery mowers, employee safety monitoring, vehicle and asset tracking, paperless communication, and drones to monitor project progress. We can help companies advance their own green initiatives with eco-friendly outdoor solutions.
Our experienced professionals advocate for what you need when it comes to your budget and unique property features. With more than 40 years of experience in the Bloomington, Illinois, area, we understand the climate, soil, local trends, and how they have an impact on your choices. We're proud to provide clear expectations in regards to pricing and what we can deliver, which is why we map your property to help you visualize each project and ensure nothing is forgotten.
Upfront, Honest Pricing and a Satisfaction Guarantee
We wear high-visibility uniforms and use branded machinery, so you know who is on your grounds. Our quotes are detailed and honest, and we don't add any secret charges to your project. If we make a mistake, that cost is on us. We want you to be proud of your property, and we maintain high standards for aesthetics, safety, and detail.
Get To Know
Reinhart Landscaping & Snow
Brothers Todd and Chad Reinhart started Reinhart Landscaping & Snow in 1986 as a two-man operation dedicated to solving their clients' landscaping problems. Today, that little business has grown into one of the premier landscaping companies in the Bloomington area, and their focus on the client's needs hasn't changed.
We're proud to offer customized solutions supported with advanced technology and a team of highly-skilled landscaping professionals. Visit our About page to learn more about our entire team.
We're Known in Bloomington for Our Cutting-Edge Technology, Reliability, and Honest Pricing
At Reinhart Landscaping & Snow, we've worked hard over the last four decades (and counting!) to establish ourselves as trustworthy advocates for you and your property. We're proud of the partnerships we've built in this community, and nothing makes us happier than knowing how much our clients love their landscapes.
Our Passion for Fine Landscaping
Shines Through in Every Project
Good stewardship is always at the forefront for us, and we take pride in delivering each landscape in alignment with your vision and expectations. As you can see in our portfolio, that results in a diverse collection of projects, each one customized for the property owner or manager. Browse our portfolio to see the work we've done in Bloomington, Peoria, Champaign, and other nearby communities.
Comprehensive Commercial and Residential
Landscaping Services
Reinhart Landscaping & Snow specializes in commercial snow removal and grounds maintenance and commercial and residential landscape design and installation. We use the latest technology to ensure a streamlined experience and precise landscaping results, with a commitment to honest pricing, eco-friendly practices and solutions, and safety. Take a closer look at what we can do for you in the Bloomington area:
Commercial Grounds Maintenance
Our maintenance services are customizable to suit the needs of your property. Choose from mowing, including autonomous mowing, trimming, bed and fence line maintenance, mulching, fertilization, vegetation control, pruning, irrigation maintenance, seasonal clean-up, and more. Visit our Commercial Grounds Maintenance page to learn more.
We offer full-scale landscape design-build and bid-build services. We're your partner for rough and final grading and land clearing, site backfill, hydro-seeding, sports field installation, tree installation, erosion control, and more, with a variety of enhancements to further customize your commercial landscape. Visit our Commercial Landscaping page to learn more.
All winter long, we offer a prompt response to snow events with sidewalk clearing, snow plowing and removal, ice control and bulk salting. Visit our Commercial Snow Removal page to learn more.
High-End Residential Landscaping
We take on select residential landscape design-build projects, specializing in ponds, patios, pergolas, fire pits, seating walls, retaining walls, and more. Visit our Residential Landscaping page to learn more.
A Process Designed to Complete Your Project
On Time and In Alignment With Your Expectations
After more than 40 years of experience in Bloomington, Illinois, you could say we've perfected our landscaping process. With each step, we strive to keep you informed, listen to your wants and needs, and work with professionalism and a sense of urgency to complete your project on time. This is what to expect with Reinhart Landscaping & Snow:
Get in Touch
Call us at (309) 821-1711 or fill out our online Request for Proposal. If you submit that form by 3:00pm, a dedicated account manager will respond the same day. If you submit it after 3:00, you'll hear from us the next morning before 10:00.
Initial Phone Call
Reinhart Landscaping & Snow specializes in landscape maintenance, installation, and commercial snow removal. On your Initial Phone call, we'll discuss your goals and match you with the appropriate Account Manager on the Reinhart team, or recommend another service provider if we're unable to assist you.
On-Site Discovery Meeting and Site Walkthrough
An account manager will visit your property to discuss the scope of the project and create a detailed map of your property. As your landscaping partner, we'll offer professional advice to help you maximize your budget and understand what's possible. We'll discuss your budget, review the map to make sure all areas are accounted for, and learn more about the vision you have for your outdoor space.
Custom Program Creation
Based on your map and the scope of the project determined during the discovery meeting, we'll create a detailed proposal for you to consider. You'll receive a rough budget outline for the landscape enhancements we discussed.
The Reinhart Custom Proposal Meeting
You'll have the opportunity to review the agreement and discuss the estimate with us before you make a decision. After you sign, we'll discuss scheduling. The timing of the project start depends upon the timing of the contract signing, but we'll give you an estimated timeline so you know what to expect.
Work Begins
Our highly-trained crew will show up on time, work efficiently, and demonstrate the utmost respect for your property. As a technology company that happens to be in the landscaping industry, we've invested heavily in eco-friendly solutions, including battery-operated string trimmers, employee safety monitoring, and paper-free contracts and communications.
Continuous Quality Audits of Property
The project may be finished, but we're not. We'll continue to check in and make sure your property maintains our standards for tidiness, safety, and functionality. Contact us any time to schedule an additional service.

Bloomington

Normal
Normal

Peoria

Champaign

Pontiac
Pontiac

Clinton
Clinton

Lincoln
Lincoln

Decatur
Decatur
Proud to Be The Leader Among Landscaping Companies Serving Bloomington, IL, and Nearby Communities
Bloomington is our home, but we serve a variety of commercial and select residential properties in these communities and the surrounding areas:
Visit our Service Area page to learn more about the work we do throughout the region.
A Family-Like Work Environment and a Fulfilling Career: Apply Today
We're always on the lookout for passionate landscaping professionals with a strong work ethic. We offer competitive pay, career growth opportunities, top-of-the-line tools and technology, and a supportive work environment. Visit our Careers page and apply today.
Your Trusted Landscaping Partner
Not all landscaping companies consider themselves your partner, but we do. Together, we'll collaborate on your landscape design and installation, grounds maintenance, or snow removal for a customized solution perfectly suited to you and your property. Fill out our contact form or call us today to learn more about our range of services in Bloomington, Illinois, and the surrounding area.